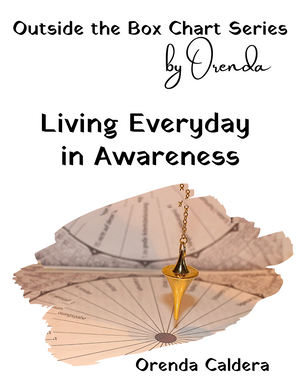 BOOK - CHARTS, Living Everyday in Awareness (digital)
Sale price Price $25.00 Regular price
Which Charts are Included:
16 powerful dowsing charts take your readings far beyond the typical yes/no. Get answers fast!
We've included the charts most used in everyday life to determine what's needed now, where to address current body & pet needs as well as 
Time - Helps you determine when something did or will happen
Numbers - 
Life Balance - 
Life Force - 
What's Affecting Me? - 
Family Relationships - 
Triggers & Sources - 
Pet Communications - 
Lost Items - 
Body Systems - 
Nutrition - 
Allergens & Effects
Pathogens - 
EMF Energy - 
Talking Board - 
Customizable Arc Chart - 
About the Author
Orenda Caldera, a native of Southern California, has studied a wide variety of esoteric sciences for over 45 years including dowsing. She not only dowses for fun & profit, personal growth, divination and planetary healing, but empowers others to do the same with a no nonsense "you can do it" approach. 
Whether you're new to the process of dowsing or well-seasoned, there is always more to learn!
  This is a DIGITAL Item delivered by email / download. If you want a physical book mailed to you, please click here.
Recommendation for self-printing:
Prints on 8 1/2 x 11 paper unless adjuted
For double sided printing use "side flip" option
If desired, re-markable page can be created at home with lamination or by inserting into an acrylic sleeve or glass picture frame.