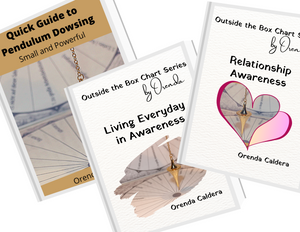 Bundle & Save - 3 Most Popular Books (printed)
Sale price Price $60.00 Regular price $70.00
Follow the links to individual item listings for additional information:
About the Author
Orenda Caldera, a native of Southern California, has studied a wide variety of esoteric sciences for over 45 years including dowsing. She not only dowses for fun & profit, personal growth, divination and planetary healing, but empowers others to do the same with a no nonsense "you can do it" approach. 
Whether you're new to the process of dowsing or well-seasoned, there is always more to learn!
This is a physical Item delivered by mail or in person. Digital version also available here.