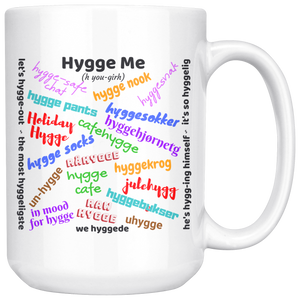 Hygge Me Mug Grande
Sale price Price $18.75 Regular price
This high quality 15oz. ceramic mug has a premium hard coat that provides crisp and vibrant color reproduction sure to last for years. Perfect for all hot & cold beverages.
• High Gloss + Premium White Finish
• ORCA Coating
• Dishwasher and Microwave Safe
• 4.5"H x 4.5W x 3.4"D
• 10.75" Circumference
"Hygge Me" is an exclusive design by Witches Wisdom Academy. Available in a variety of styles, colors and materials.

These appear fresh out of the cauldron only when summoned by you, so they are never sitting alone in a dark closet or arrive faded.
Allow an average of 5-12 days for printing and choose the speed of shipping at checkout  
Black High Gloss Mugs (11 oz)
Accent Mugs in brilliant colors (11 oz)
Magic Mugs (11 oz) Black mug until adding a hot liquid makes the image magiclly appear.