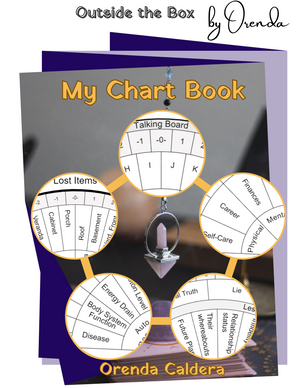 MY Chart Book - NEW Expandable Version!
Sale price Price $65.00 Regular price $102.00
NEW ITEM
Fully customizable version created using the ARC notebook disc system so you can continue to add more new charts as they become available!
Now includes THIRTY-FOUR (34) powerful dowsing charts take your readings far beyond the typical yes/no, including both the arc and column charts as remarkable versions. Get answers fast!
This premier First Edition contains EVERY chart I've created so far for a COMPLETE SET. You get everything to date, including every chart in both the EVERYDAY & RELATIONSHIP Chart Books PLUS even more charts that were created after those two books were published.
For a limited time, I'll even throw in a digital copy of my Quick Guide so you can learn all you need to know to get started or take your practice to the next level.  Learn how to use pendulum dowsing to get accurate answers to your questions fast.

This is the Expandable Book of Charts only, to add the optional Pendulum Bag & Charmed Bookmark of your choice, CLICK HERE.
Need more confidence or help?
Attend a free training talk at my next live event or sign-up here to be notified when my new basic and advanced dowsing courses are available. They will be very reasonably priced and available in online to learn this powerful tool at your convenience.
About the Author
Orenda Caldera, a native of Southern California, has studied a wide variety of esoteric sciences for over 45 years including dowsing. She not only dowses for fun & profit, personal growth, divination and planetary healing, but empowers others to do the same with a no nonsense "you can do it" approach. 
Whether you're new to the process of dowsing or well-seasoned, there is always more to learn!
This is a physical Item delivered by mail or in person. Digital versions available here.